VIPERTEK VTS-979 - Stun Gun - Rechargeable with Safety Disable Pin LED Flashlight, Black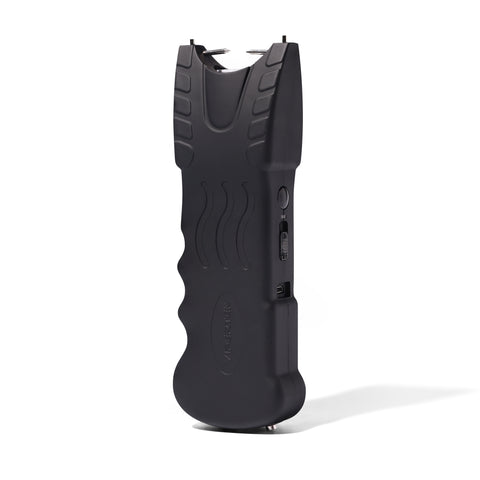 Military Strength Protection: This rechargeable stun gun is engineered to meet the demands of Police, Military, and Security Professionals worldwide but also available to civilians who are serious about their security and safety.
Safety Disable Pin: Prevents an attacker from taking this stun gun away and using it on you. A strap worn around your wrist attaches to a disable pin on the bottom of the unit. If the stun gun is taken from you the pin will pull out, preventing it from working.
Deep Finger Grips: Design fits right in your palm, which gives more control and ease of use.
Economically & Environmentally Friendly: The stun gun and flashlight are fully rechargeable and the light bulb has a life of up to 100,000 hours.
Safety Switch: To prevent accidental discharge, the safety must be in the "stun" position and trigger pressed before the stun will operate.
Rechargeable: USB RECHARGEABLE BATTERY: USB Charging Cable included. Simply plug into any USB port or your existing USB Charger to save money on batteries. Complete charging instructions enclosed.
SALES PROHIBITED TO: Hawaii, Massachusetts, Michigan, Rhode Island, Wisconsin, and the District of Columbia (Washington DC). No International Shipping!

DISCLAIMER, RELEASE, ASSUMPTION OF RISK, WAIVER OF LIABILITY AND INDEMNITY AGREEMENT: Vipertek.com is not responsible for any physical harm or damage from the use or misuse of self-defense devices including a stun gun purchased from us.

By purchasing a self-defense device, including a stun gun from us you understand that Vipertek.com does not warrant that you may legally purchase, possess, or carry these products according to any state or local laws. You also acknowledge that you have determined their legality before purchasing and that you are an adult of at least 18 years of age and under no legal disability.

By purchasing a self-defense device, including a stun gun from Vipertek.com, the buyer warrants that he/she is in compliance with all applicable federal, state and local laws and regulations regarding the purchase, ownership and use of the item. The buyer expressly agrees to indemnify and hold harmless Vipertek.com for all claims resulting directly or indirectly from the purchase, ownership and use of the item in compliance or violation of federal state and local laws or regulations.

Please check local laws before ordering any self-defense device, including a stun gun.

---
More from this collection